Flags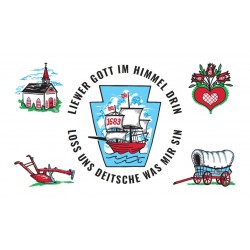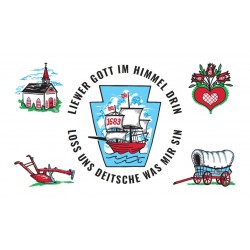 Pennsylvania German Flag
The Pennsylvania German flag was designed by a committee of members of the Groossdaadi Grundsau Lodge (Grandfather Groundhog Lodge): Carl D. Snyder, Peter V. Fritsch, Richard K. Miller, and Sterling G. Zimmerman. It was dedicated at the Allentown Court House on October 6, 1989, exactly 306 years after the Concord, represented by the ship in the keystone, landed in Philadelphia.
"Liewer Gott im Himmel drin, Loss uns Deitsche was mir sin" is translated: "Dear God in heaven, leave us Germans what we are."
For a discussion of the design of the flag and its symbolism, please refer to the following article:
Pa. Dutchmen Turn Serious, Create Banner
The flag measures 3 ft. by 5 ft. and is made from 130 gsm knitted polyester. The pole end of the flag has two grommets for attaching to a pole.
The flag is provided free of charge for orders of $100 or more. If your order qualifies and you would like the free flag, please add it to your cart, where you will see the discount. Pennsylvania residents who qualify for a free flag will still be subject to sales tax for the flag.